What is Hip Dysplasia in Dogs?
What is hip dysplasia? Hip dysplasia is an abnormal formation of the hip socket that is commonly found in dogs and most notably, larger breed dogs. Some of the most common breeds affected are German Shepherd Dogs, Labrador Retrievers, English Bulldogs and Golden Retrievers. Causes of canine hip dysplasia are primarily congenital but environmental factors such as the dog's diet can have a critical role. Abundant research on hip dysplasia in dogs indicates that good nutrition and dog joint support supplements can greatly affect the quality of life and mobility of your pet.
Recommended by Veterinarians, the supplements below (please scroll down to view products) have been proven to help reduce pain and discomfort, promote healing and repair of the cartilage, reduce atrophy and improve mobility of dogs with hip dysplasia.
Special SAMe--Science-based synergistic formula proven to support joint health and reduce inflammaton
Canine Comfort--Natural anti-inflammatory, especially helpful for larger-breed dogs
Arthritis & Joint Support Kit--Contains Amazing Omegas Fish Oil, Curcumin for Pets and Arthrosoothe--basic building blocks to repair cartilage and support the joints

While many dogs may require pain and anti-inflammatory medications, using the joint support supplements for hip dysplasia can significantly reduce the frequency and dosage of medications required.

Symptoms of canine hip dysplasia:

Reluctance to exercise

Abnormal gait (can be very subtle at first)

Stiffness arising or walking up stairs

Tiring easily after exercise

"Bunny-hopping" when running; where the legs move together

XRAYs are the most common method for diagnosis although the hip dysplasia may not show up completely until the dog is several years old. The dog may have bursts of energy and be able to run as a young dog, but the exercise is just not as consistent as a dog of a comparable age. Young dogs may tire more easily after playing.
Many dogs with hip dysplasia may have had it to some extent all of their lives (congenital) and thus, may not show extensive outward signs of pain for several years. The extent to which this congenital defect may affect the dog's quality of life can be greatly improved using a holistic approach involving joint support supplements and antioxidants to reduce the rate of deterioration.

In other words, anatomy does not have to be destiny.



If you need help determining which natural supplements would be best for your dog with hip dysplasia, please email us at support@askariel.com and we will be glad to help.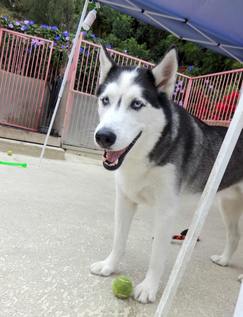 Legend Crippled With

Hip

Dysplasia

Playing With His Friends


Above is a recent picture of 6 year old Legend playing ball on a hard service at his favorite doggie day care facility. 2 years ago, Legend was diagnosed with severe

hip

dysplasia

. After a few days of doggie play, Legend wasn't able to get up to go outside to the bathroom. Tears flowed down our eyes when we were informed that he needed to have limited play and that he would have to be on pain medications in order to walk. We knew there was a better way! Dr. Gordon recommended using Special SAMe for Legend and in combination with the The Joint Support Kit and acuscope treatments, Legend started to show improvement. Within a few months, he was able to go back to Doggie Day Care. If your pet has

hip

dysplasia

, look into natural treatment options before concluding that daily pain medications are your only answer.