Dog Bladder Infections, Cat UTIs---4 Tips to Prevent Urinary and Bladder Problems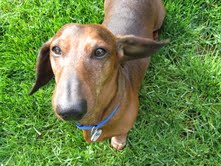 "Yesterday was my dog Justin's 14th birthday and he has not had a UTI since starting your Pet UTI Prevention Formula last June. I cannot thank you enough for this product! It has changed both of our lives!"

Leigh Anne Jasheway April 2013


4 Tips For Cats and Dogs with Urinary and Bladder Problems

Urinary tract and bladder problems comprise a variety of conditions such as:

* Chronic urinary infections (UTIs)
* Crystals in the urine
* Incontinence
* Bladder stones
* Interstitial Cystitis

* Bladder cancer

Cats and dogs with urinary tract conditions may strain to urinate, have frequent urination, "accidents" in the house and bleeding. Conventional treatments involve the use of antibiotics and anti-inflammatories (more aggressive treatments such as chemo and radiation when cancer is diagnosed). Many times though, the infection and inflammation returns as soon as the medications wears off.
Tip #1: Change the diet

. Certain foods can trigger UTIs and inflammation in some pets. Not all pets will respond the same to these foods which is why you may have multiple pets eating the same food and only one is having chronic urinary tract infections. Grains such as oats, wheat, corn and even rice can be a trigger for UTIs. Diets high in carbohydrates or treats with sugar such as molasses can be problematic. Certain proteins such as poultry can also trigger inflammation and allergic response in some pets too. Pets with chronic urinary problems need a high moisture diet, especially cats. Try using a low carbohydrate, hypoallergenic diet. High moisture raw and canned food is preferable. If your pet is on a prescription diet, please work with a veterinary nutritionist to reformulate your pet's diet to eliminate trigger foods. Ask Ariel www.askariel.com offers telephone consultations to help you determine the best dietary approach for your pet.
Tip #2: Add Essential Nutritional Supplements

- Once a pet has had multiple urinary tract infections or interstitial cystitis, just changing the diet alone will not be sufficient to prevent reinfection. Nutritional supplements are needed to help heal and repair the urinary tract. The continued use of antibiotics can destroy the "good bacteria" and weaken the immune system. Power Probiotic and Notatum will repopulate intestinal flora and reduce the likelihood of the infection coming back. reduce inflammation. The PET UTI Prevention Formula contains herbs supportive of the bladder and urinary tract (e.g. d-mannose and cranberry) and by helping to maintain the proper pH, will help fight infection. Akutur and Renelix can help improve overall bladder and kidney health.
Tip #3: Watch Your Pet's Communication Signals

- Pets may have "accidents" in the house as a way to make you aware of their discomfort. Watch the signs and be aware that accidents may have a medical not just behavioral cause. Sometimes the pet can have incontinence or straining as a result of a slight irritation (not a raging infection) which can be hard to diagnose. Using the supplements to maintain a healthy urinary pH will reduce this discomfort. Over time, you will be able to detect the subtle signs and reduce the likelihood of repeat infections.
Tip #4:

Calm Stressed Pets

--For cats especially, stress can be a trigger that contributes to chronic urinary tract infections and/or feline interstitial cystitis. It is hard to know exactly what might be contributing to your kitty's stress and it might be factors beyond your control such as the neighbor's barking dog or having guests in your home. But, it could be another cat in your household or feeding issues so try to identify any sources of stress that you can control. If necessary, feed your cats separately or keep them in separate rooms while you are away. Some cats are bored and frustrated with a sedentary lifestyle and/or being indoors. Try playing with your cat and/or taking them outside in a controlled fashion (some owners use a leash) to stimulate their predatory instincts. If your cat is stressed or has anxiety, Psystabil can be very helpful.